Dog's resort in Spain: People can be jealous
4575
Wonderful news for real dog-lovers! First in the world water resort for these animals has been opened in La Roca del Valles, Catalonia, Spain, only half an hour drive from Barcelona. The name of the resort is Canino Can Jane. It was named after its founder Frederic Cano. This unique resort idea came to him when once he saw a swimming pool where people and dogs were swimming side by side. As a rule, most tourists, gone for their journeys are forbidden to take their pets with them. But at the same time they have nobody to leave their animals with. They have to ask their relatives and friends to look after their pets. Some people leave them in special hotels for animals. Anyway – it's not easy to take their dogs with them while travelling. On most beaches, dogs are prohibited to swim in the places where people do. Swimming pools for dogs are also quite rare. But what should they do in a terribly hot weather?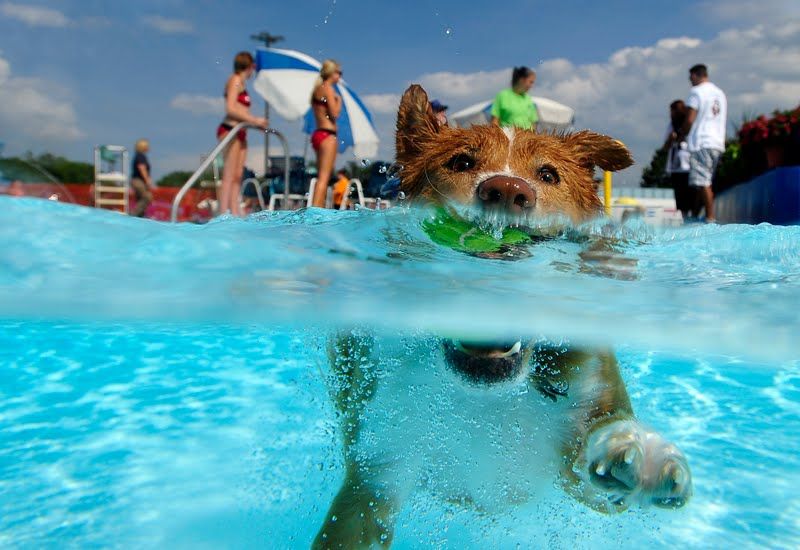 This is how a huge aqua park with large swimming pool 60 cm deep appeared. Dogs can live in a hotel in suits of different comfort levels. Standard room costs 25 EUR per night, an apartment costs 45 EUR. There are special mattresses, boats, slides, balls and fountains for dogs here. There were some difficulties with sanitarian permissions, but a unique and very efficient pool water cleaning system has been worked out for this resort. That helped to solve everything.
This is a wonderful opportunity for dog owners, who go on their vacation, not to worry about their small friends left at home. The staff will meet all their clients' needs. Don't forget that water influences good on physical and psychological health of animals.
Hotels for "our small friends" started to appear in early 70-ies of the 20th century. Now it's a prosperous business in such countries as Germany, France, Great Britain, Spain, Hungary, Japan, the UAE and the US. People can sometimes be jealous about facilities of hotels for their pets. Comfortable rooms with beds, playgrounds, treadmills, aromatherapy, spa-procedures, hairdressers, movies about dogs on large LCD panels, air condition system, air cleaners, individual feeding and round the clock help are at their disposal. They say, most dogs don't want to go back home after having such a rest.
It's easy to predict that pretty soon a demand for resorts of a kind mentioned above will grow rapidly. There are many dog owners who are ready to pay a lot for the rest of their small friends. Sometimes even more then for themselves.
If you liked the news, tell your friends :)